The Scorers
All the Simultaneous pairs are scored using a special scoring system developed written by Mark Newton of ECats Ltd. The system runs on a server farm using load balancing software. Because we get confused by calling the servers "Server 1", "Server 2" and so forth, all our servers in the ECats Domain are named after cats ... either famous ones or our own!
The main server collects the files that are sent in and distributes them according to programmed instructions.
The files are sent either directly from scoring program in the case of the ECatsBridge program, or by email to results@simpairs.com, where they are passed straight on to one of the two scoring computers which use the technology developed by Mark to process all the data sent in and produce the overall scores.
Once this has been done - it takes about a minute to score a club's result and then to re-score it across the whole field - the files are passed onto another server which passes them through to the web server looking after your needs when you log on to get the information.
The servers are now located in a very hi-tech rack at Canary Wharf in London which gives us lots of lovely bandwidth to give you a good service.
Picture of the scorers hard at work!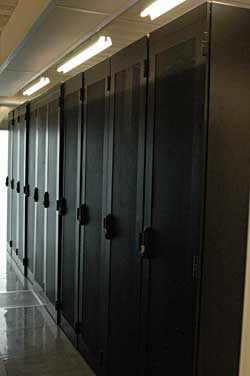 ---